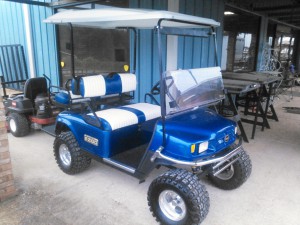 There are many things to consider when buying a golf cart. You've thought a lot about owning your own golf cart – even dreamed about it – and now the time has come. But what now? There are so many different types. New versus used golf carts. Gas versus electric. How do you decide which golf cart to buy? We've researched the most popular tips for buying a golf cart and compiled them here for you.
– New or used? Buying a used golf cart can save up to fifty percent of the cost of a new golf cart.
– Which is right for you… Gas or Electric? According to Ebay, "Gas golf carts have engines similar to cars. They require gasoline to operate and regular engine maintenance. These engines are ideal for those who plan on taking the cart on uneven terrain or for those who plan on using the cart for pulling and towing." And "electric golf carts are powered by rechargeable batteries. There is minimal maintenance for these carts and no gas is required, which minimizes annual costs. These carts have a horsepower of around three to five horsepower, so they do not have the same power potential as gas powered carts."
– Are there particular features you are looking for such as a locking glove box, cup holders and speakers?
– How many seats do you need?
– Windshield or not?
– Do you need headlights?
– Do you have a place to store your new golf cart? Those stored indoors will last much longer.
– What's your budget?
– If I get an electric golf cart how much will charging it cost?
– What kind of ongoing maintenance will be needed to keep your golf cart in good shape?
– Is custom right for you? When it comes to customizing a golf cart the options are endless. The sky's the limit! Custom paint, custom seats, sound systems, lift kits, big tires, etc.
And we'll leave you with this final tip from Golf Carts Plus, "Buying a golf cart is no different than buying anything else, common sense should prevail."
Are you ready to get started? Check out some of our golf cart work here and come by. We would love to show you what we have and help you decide which golf cart is right for you. We're located conveniently off of I-65 on the frontage road at Exit 179. Hope to see you soon!